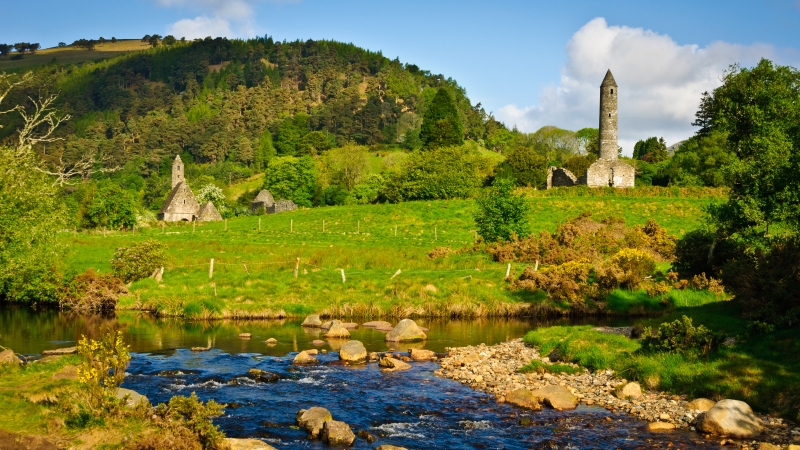 If you're taking a road trip in Ireland or visiting Wicklow for a last minute weekend trip, renting a car will open up a new world of rich history, stunning scenery and delicious local food and drink. When you choose Go Rentals for your car hire in Wicklow, you can discover all beautiful Wicklow has to offer with freedom and flexibility. Go Rentals also offers unlimited kilometers on our short term rentals – so get your journey started today and call us on 045 256800.
Things to see in Wicklow
Wicklow is home to some of the best scenic drives in the whole of Ireland! With decades of experience with car rentals in Ireland, Go Rentals is your go-to company for your trip to Wicklow – we can advise you on the best routes to take and the hot spots you just can't miss.
Powerscourt Estate and Gardens
Home to the highest waterfall in Ireland, Powerscourt has so much to see. Voted the number 3 garden in the world by National Geographic, it's a must-do for nature fans. Powerscourt House was recently voted one of the top ten houses and mansions worldwide by the Lonely Planet Guide and has a wonderful array of Irish designed giftware, homeware, clothing and furniture. Travelling with kids? Pop into Tara's Palace, a unique hand-crafter doll's palace full of childhood memorabilia. After all that sightseeing, you can stop off in the
Avoca Terrace Café for a bite to eat – all while taking in the panorama of Sugarloaf Mountain.
Clara Lara Funpark
Perfect for young families, Clara Lara Funpark is situated on 30 acres of beautiful countryside in the Avonmore River valley. There's plenty of fun to be had with boats, canoes, go-karts, tree houses, a pirate ship, rope bridges, zip-lines and crazy golf. For toddlers, there are sand pits, swings and slides too. Clara Lara is great for those on a budget – they're picnic friendly! There is a BBQ area and a restaurant on-site if you'd prefer to have something hot to eat. They're open from 28th May to 28th August every year.
Avondale House
A must for history buffs! Avondale House is the birthplace and home of Charles Stewart Parnell – one of the leading political leaders in Irish history. The house is full of stunning Georgian architecture and furniture. There's a full history of the house and Parnell's role in the shaping of modern-day Ireland. In addition to all that history, there's a forest park of over 500 acres with tree trails and walks ranging in duration from one to five hours. Other facilities include a cafe, book shop, picnic areas, children's play area and three orienteering courses.
Avoca Town
Avoca has been immortalised in song, tv and film – so stop off on your journey and see what all the fuss is about. Thomas Moore wrote his famous 'The Meeting of the Waters' song about the two rivers that meet here. In 1966, Avoca was used as a shooting location for the film 'Jules Verne's Rocket to the Moon'. Avoca is also the town where 'Ballykissangel' was filmed for the BBC. Avoca Handcrafts are definitely worth popping into too.
Glendalough
Glendalough is a firm favourite with locals and tourists alike. The 5th Century St. Kevin's Monastic City is home to one of the best preserved and highest round towers in Europe. Steeped in spiritual and archaeological history, it has many scenic walks around the lakes and mountains.
With so much to see across such a spread out area, an affordable car rental in Wicklow is exactly what you need. Choose Go Rentals and have an unforgettable experience travelling a truly beautiful county. Give us a call on 045 256800 today.
What to do in Wicklow
Delta Force Paintball
The award-winning paintball centres' most popular game zones are in Bray, Wicklow. Used by the likes of Wayne Rooney, Usain Bolt and Elle Macpherson, they have the most competitive prices in their field and come highly recommended. This year sees a massive investment and newly launched Hollywood-inspired movie set game zones. Delta Force provide all the equipment and safety gear – just wear suitable shoes!
Squirrel's Scramble
Based in Kilruddery House and Gardens (also a great place to visit!), Squirrel's Scramble is an adventure tree park. Suitable for everyone over the age of 5, their oldest 'squirrel' was 78! Get up close experience of the wonderful natural forest with over 40 different challenges to climb, balance, slide and crawl.
Hilltop Shooting Club
Established in 2003, Hilltop offer clay shooting, rifle shooting and archery. There's something for everyone interested in this sport, from very basic beginner lessons to target practice for those seasoned professionals.
Greenan Maze and Farm
A step back in time, Grennan Maze and Farm is a great visit for families. The working farm is home to pigs, ducks, turkeys, geese, hens, horses, donkeys and sheep. There's a fully restored farmhouse dating from the 16th century. The farm house was also a safe-house for Irish rebels, such as Michael Dwyer and Andrew Burke, in the 1798 rebellion. Genuine weapons, including pikes, are on display. The Celtic Hedge Maze stands on half an acre and is the highlight of most people's visits.
Wicklow Gaol
This atmospheric historical prison is one of Ireland's top tourist destinations. In use for over 100 years, the Gaol has plenty to see and do – there's even a chance to interact with notorious inmates and the dedicated actor guides.
Brennanstown Riding School
If you want to go trekking through the majestic mountains or try horse riding for the first time, Brennanstown Riding School has you covered. Brennanstown is a training centre for the world-recognised British Horse Society qualifications and is one of a handful of Irish centres approved to hold BHS examinations up to a Stage IV and Intermediate Teaching Level (BHSII). In short, they're highly qualified. Suitable for anyone over the age of six, there's an indoor arena, four outdoor areas, a cross country course and of course the wonderful trekking sites.
National Garden Exhibition Centre
Wicklow is known as 'The Garden County' due to the spectacular quality and variety of its gardens. The National Garden Exhibition Centre is a dedicated area to the stunning uniqueness of Ireland's flora throughout the year. There are twenty display gardens, designed by leading designers and incorporating a wide variety of plants, trees and shrubs. Many of the gardens include water features, unusual furniture, pergolas, mirrors and sculptures. Soak up the peaceful ambience of your surroundings before heading in to the Pagoda tea tooms for a cup of tea and a slice of cake.
There's so much to see and do in Wicklow, you're bound to find something fun for everyone you're travelling with! Go Rentals offers exceptional rates on short term car hire and long term car rentals. We have amazing self-drive hire insurance rates and have vehicles suitable for every car hire situation imaginable. Get in touch on 045 256800 and start your perfect getaway today!