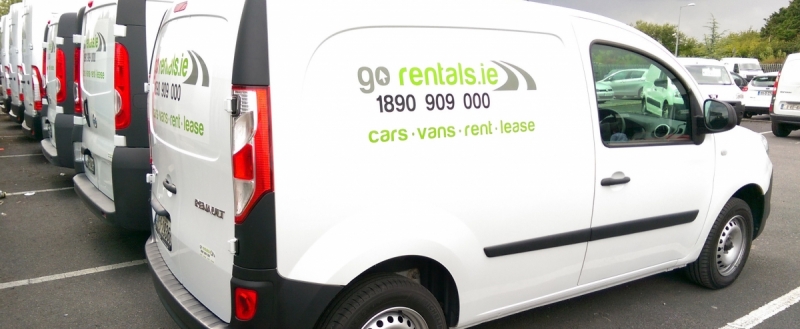 Corporate van rental in Ireland has never been easier! If you're considering long term vehicle hire for your business, the Go Rentals team can help.
What Are The Benefits of Long Term Van Rental?
Long term van rental can save your business some serious cash. When you choose an all-inclusive rental package, you don't have to worry about servicing, maintenance, wear and tear on tyres, DOE, motor tax, breakdowns or getting your team back on the road. Whether you're a large multinational or a sole trader, that gets rid of a serious headache for you and your company.
What About Branding?
If you have a long term van lease from Go Rentals, we actively encourage you to brand the vehicle with your company logo and contact details. It's the best form of advertising, right? Our team can give you insider tips on where's the best place to get your rental van branded. We can help with custom commercial fit outs too.
What Rental Vans Are Available?
We've always got small, medium and large vans available for corporate hire. Our large vans are long wheel base vans – so you know you're getting exactly what you're paying for.
How to Rent a Van Long Term
You may be wondering what you need to hire a van long term. It's as simple as hiring any other vehicle, you'll need:
– A full class B driver's license
– A valid credit card in your own name (or alternatively, a debit card to take a deposit off)
– Transfer of your own fully comprehensive insurance cover
Your insurance company will need to:
– Send on a verification email that the insurance has been transferred with
– Insurance company contact details
– Policy Number
– The name of the renter and any other driver is named specifically that they are covered
– The specific vehicle details, registration, make, model, value
– Time and date of start of cover
– Time and date of end of cover
…and that's it! Quick, simple and easy. So if you're looking for van rental in Dublin and the surrounding counties, get in touch. Not only do we have the best rates for van rental, but when you lease a van from us you get the unbeatable Go Rentals customer service too.
Every member of our team has been with us for years – take full advantage of the decades of experience available and get the best. We rent long term vans throughout Dublin, Kildare, Wicklow, Carlow, Meath, Laois and Offaly. Our all-inclusive van rental prices start from just €385 per month.
Catering for all customers, corporate and other wise, Go Rentals have very favourable self-drive hire insurance rates. If you have a client or colleague coming in from overseas, a relative or friend coming home for a holiday, Go Rentals now offer exceptional rates along with our pick-up service.
So what are you waiting for? Get in touch with the Go Rentals team on 045 256800 and get your business on the road!